The Moors is an easy walk and for flat terrain it is a really nice wetland wilderness walk. It is, however, surprisingly tiring when walking on sand for hours, especially for younger legs. If new to the area or of course if you are walking with children, I suggest you plan for shorter days than this walk suggests.
The walk is suitable for older children, as long as their parents can treat tick bites, don't forget the Aeroguard, and if swimming can spot a rip from the beach before you go in. If you're in any doubt about the surf conditions or your abilities, don't go in. Be prepared for thieving dingos who can steal your food if left unattended, even for a few minutes. I had my lunch stolen.
The National Parks and Wildlife Service did a great restoration job on this national park in the 1970s and 1980s. Beach front huts associated with sand mining were removed from Middle Camp – all gone without a trace, as well as the two-wheel drive access road to them! The off-road vehicle access has been controlled using bollards and kilometres of steel cable along access roads to Seal Rocks and Hawkes Nest. Now 49 years since reservation, Myall Lakes National Park is looking great.
Unfortunately, Myall Lakes National Park will always be at risk of being opened up to motor vehicles and commercial resort tourism. All our coastal national parks are at risk from powerful lobby groups like the Tourism and Transport Forum. Danger also is ever present with the 4WD service road through the Moors Wilderness, as locals want it opened for public use and sealed. The national park is popular, even in winter, and many love as an untouched natural wonderland. 
Trip outline
A four or five day circuit walk with a water drop at the northern end of the Moors section of Myall Lakes National Park, and optional extensions to the rocky peninsulas that jut into Myall Lake from the sand mass to the south.
for NPWS campsite bookings, current park alerts and official visitor info (diverts you off this site)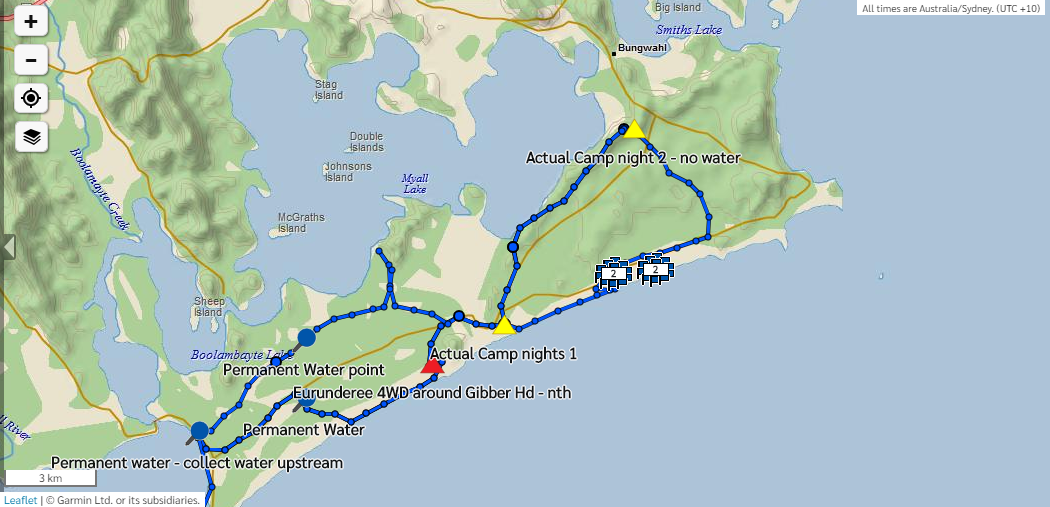 Day 1: It takes 3.5 hours to drive from Newtown to the junction of Seal Rocks Road and the Old Mining Road junction in Myall Lakes National Park, which is about 6km south-east from the Lakes Way turnoff. I left a stash of water in old wine bags at the Yangon fire road junction after walking a bit more than a kilometres down the Old Mining Road at dusk. Then camped at the nearby Neranie campground (booking and fees apply, about $20 per site/night) at the north-eastern end of Myall Lake. The campsite offers lovely views of the high dunes area over the lake.
Day 2: By using the Bombah Point car ferry, it's a short drive from the Neranie campground to the Boomeri campground on the Mungo Brush Side Road to Hawkes Nest, where you can leave your car. The walk starts 1.2km south of the Boomeri campground at the gate on the former Hawkes Nest-Seal Rocks Road, now largely revegetated. The start is located at the sharp turn with the 20km/h sign on the sealed road to Hawkes Nest – you can't miss it.
The former Hawkes Nest-Seal Rocks Road is now a scenic walk, that immediately offers views of wetlands and forests first on the right and left, with birds and wildflowers, so you get into this RAMSAR listed wetland wilderness and its wildlife, right away.
Sometime later, depending on how much bird watching you do, a NPWS metal street sign announces the Broken Sands Trail, a bit more than 3 kilometres from the start. Turn right onto this trail/road that crosses a swamp to provide access to the vegetated coastal foredune sand mass and the beach. There is a water crossing at the east end of the Broken Sands Trail swamp crossing. If heading to the beach, get water and continue east.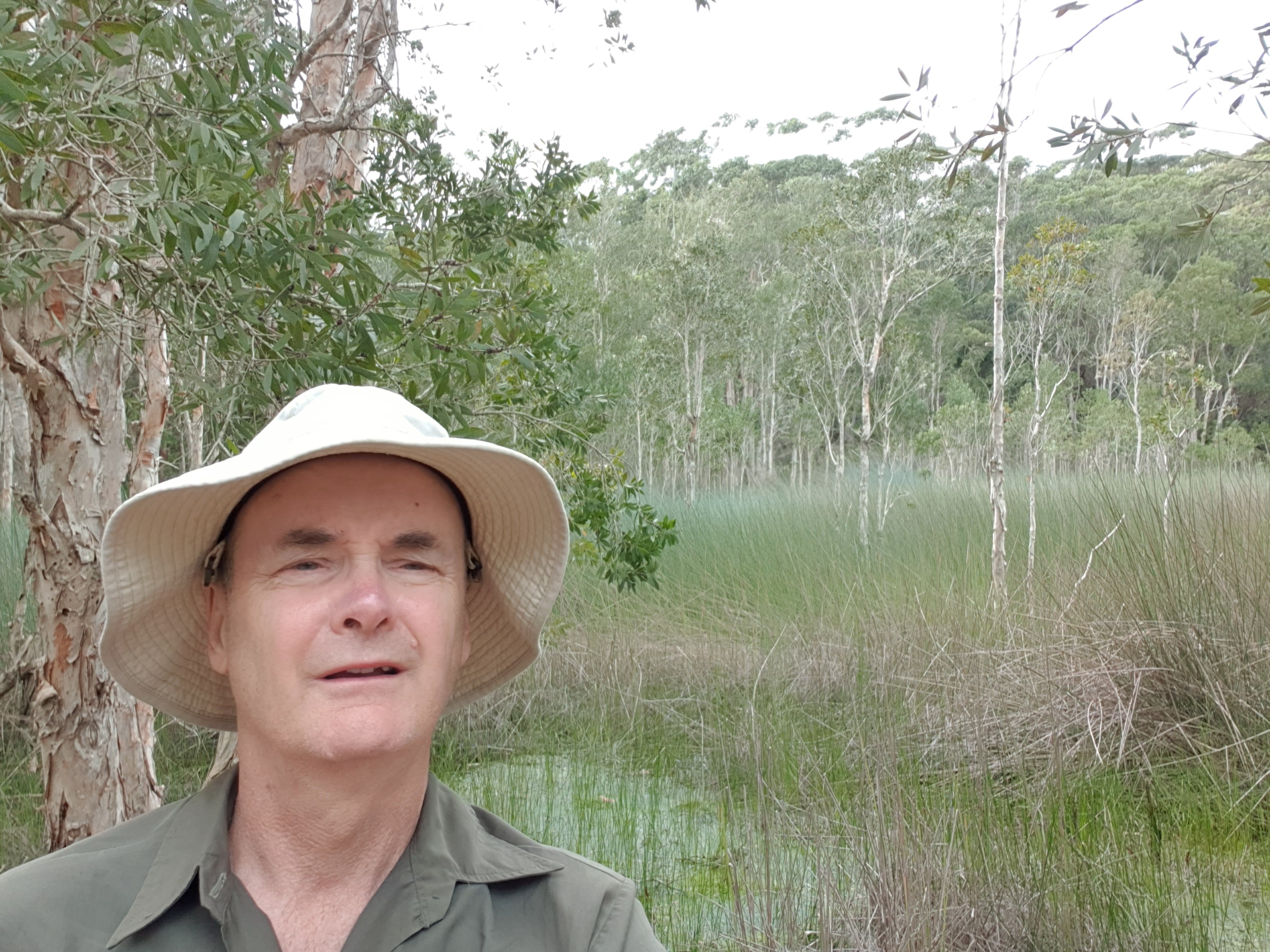 There is an alternate campsite if you want a short day. A small, beautiful freshwater lake surrounded by lush vegetation. I had lunch there. When I reached Mungo Beach I found it was closed to 4WD's due to bad weather and beach erosion, so I had it to myself.
The long sweeping beach is nice, with not much rubbish and few weeds. The next thing you'll run into after a couple of hours of daydreaming along the beach is The Big Gibber, yes, that's right, a big rock and you can't get around it on the foreshore. I turned left and headed inland.
On the southern side of the headland you'll find the Eurunderee Trail. Its commencement point is lost in a big sand blow. Try looking for it starting about 900 metres before the Big Gibber. It takes some finding. Follow it north 1.5 kilometres inland back to a service road where the Eurunderee Trail is announced by another big metal sign. Who are these signs for and what purpose do they serve I wonder? Cyclists looking to get sand in their gears?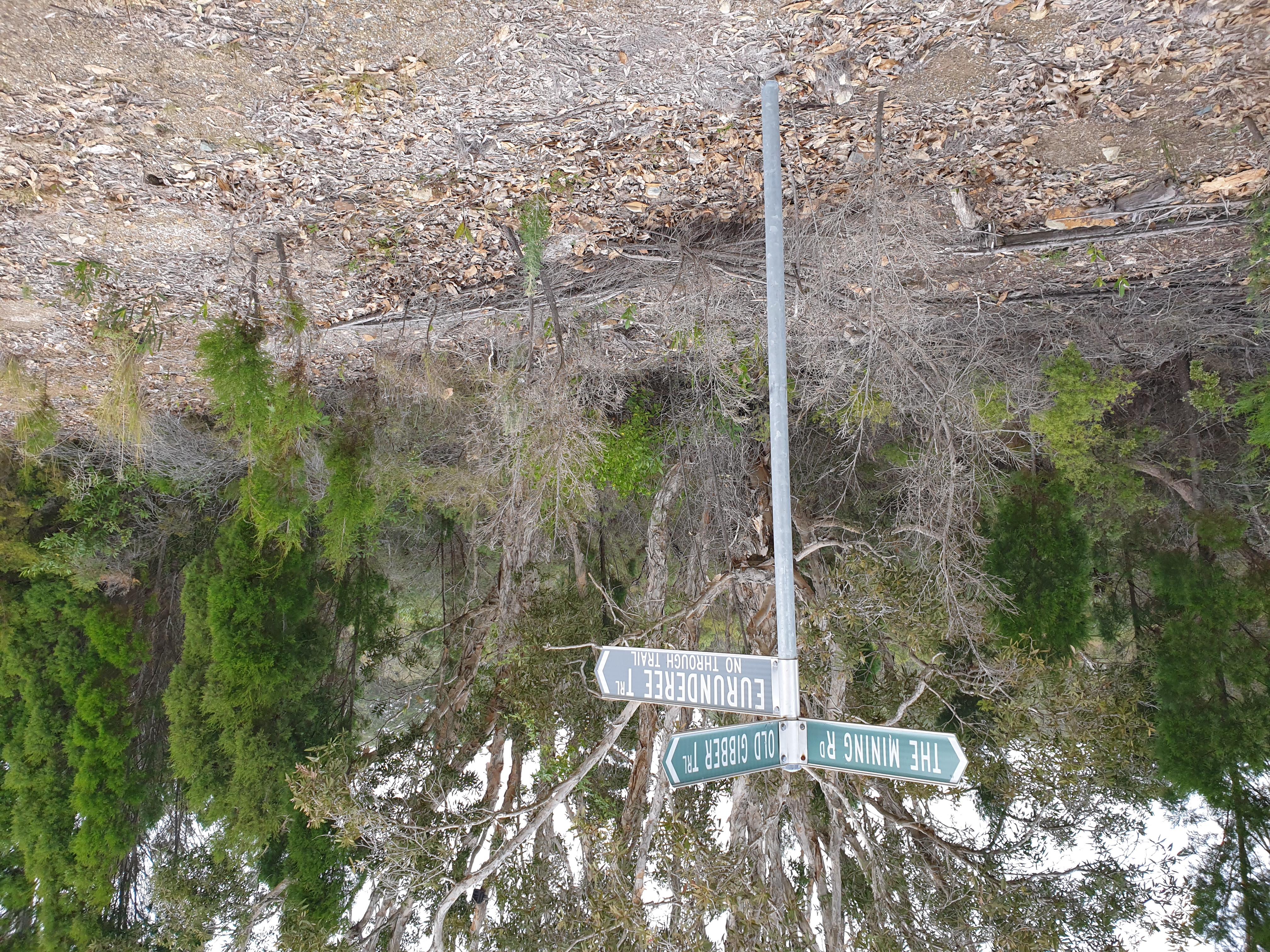 Having reached the old Mining service road … follow it generally east, then south-east and north-east. Just after the road completes this big sweeping bend, there's an unmarked rough 4WD track on your right. Take that rough road and head back towards the beach through the forest. This area is a good place to camp if you have carried water, as I did. Nobody will disturb you here.
Day 3: Next morning follow the rough 4WD road to Fiona Beach and head north. This the easiest way to the northern end of the Moors section of the national park. No vehicles are allowed on this beach and its lovely to walk for hours and maybe you'll find the wreck of an old submarine (Is it true that Captain Burble Gargar ran his sub into a beach gibber?)
If you need water, there's water 1200m south-west from the Yagon campground where windblown dunes meet the bush. This is the last water for a day and a half on the circuit to Boomeri campground. This is also a possible campesite.
If you did not go inland for water, follow Submarine Beach to Yangon Gibber Headland where you will find a track leading to Yagon campground.
If not using the Yagon campground, continue north and take the Yangon Fire Trail to the north-west. On this trail you could almost think you're on Frazer Island. Except there are tall Angophoras and Blackbutts and lots of wildflowers, and better still, no motor vehicles! 
About two thirds of the way along Yangon fire road to the Old Mining Road, take care not to divert right onto the Old Yangon fire road, take the left fork.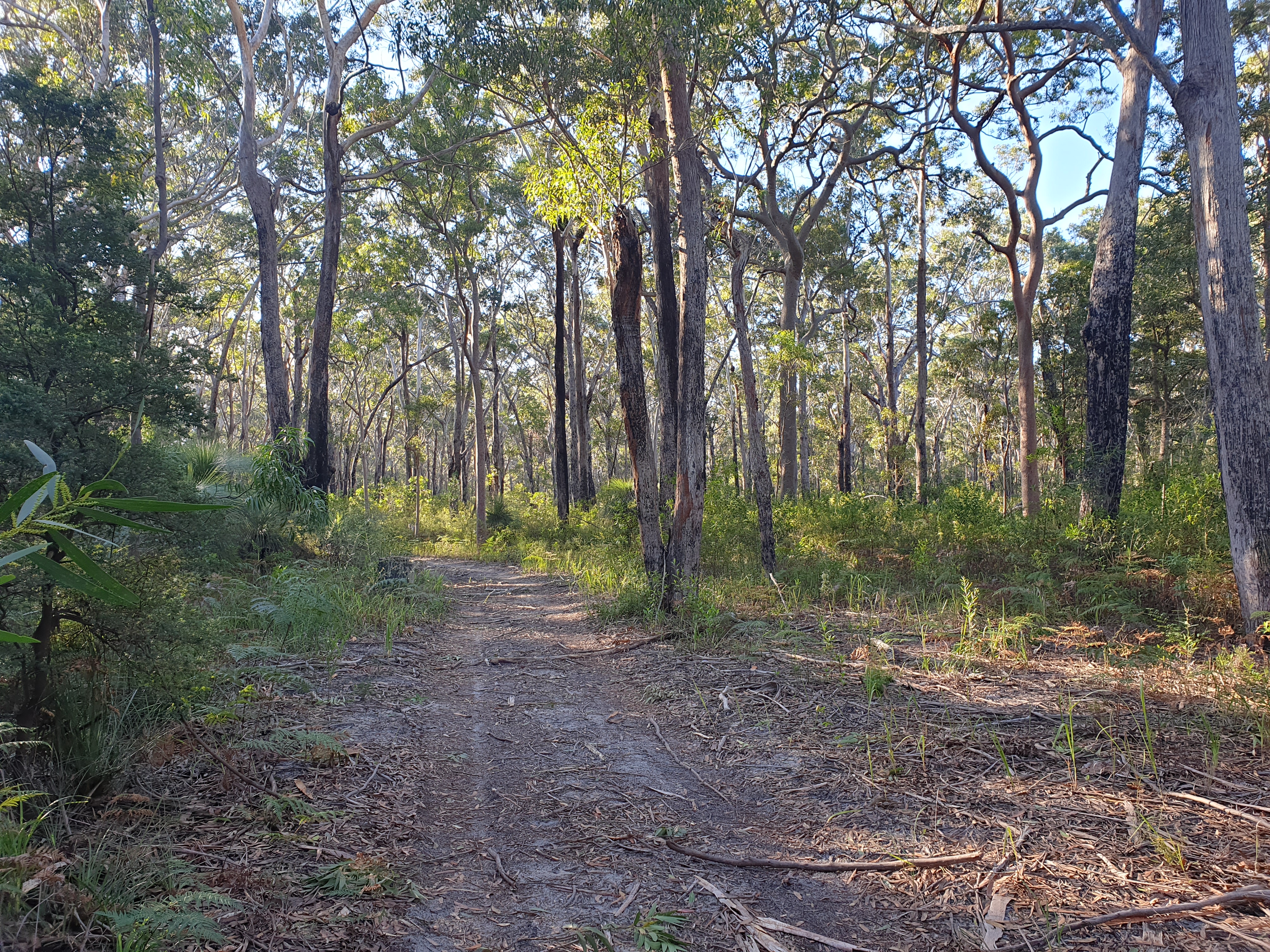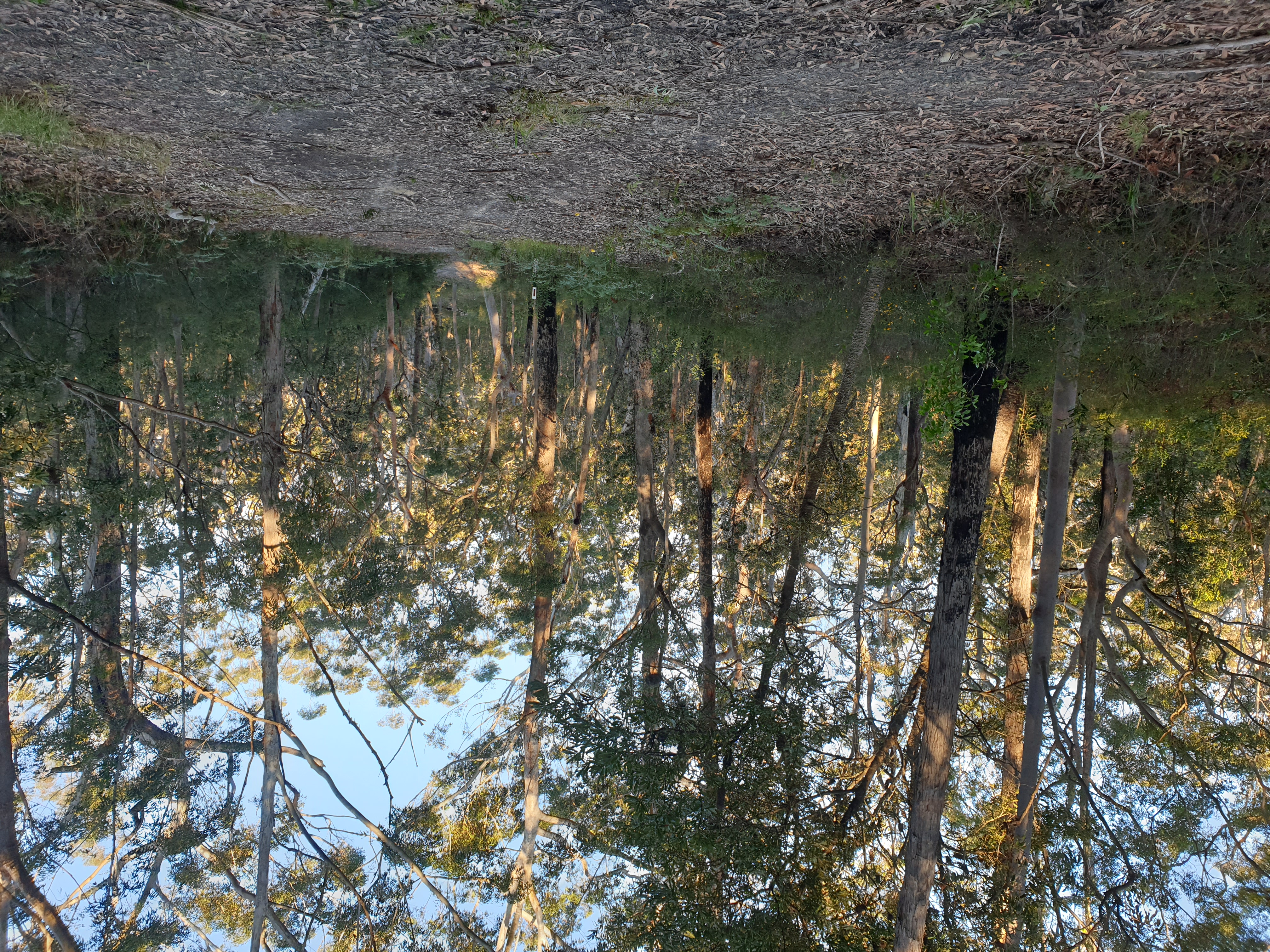 I then picked up my stashed 6 litres of water for a traverse of the High Dunes and a high camp. Camp anywhere on a high dune (80m) with a view of Myall Lake. The sunset over the expanse of Myall Lake is an unusual experience, as there's not many places on the eastern seaboard where you can enjoy a sunset over pristine bush and a large expanse of water. The high dunes were hard fought over by conservationists, led by Milo Dunphy. Its all forgotten now, but sand miners were a very powerful lobby, as mineral sands contained strategic minerals used in nuclear missiles and aircraft. The fight to save these high dunes, and all of the NSW north coast from sand mining, was a major political struggle for conservationists in the late 1960s and 1970s. The core of fantastic NSW coastal national parks was established back then.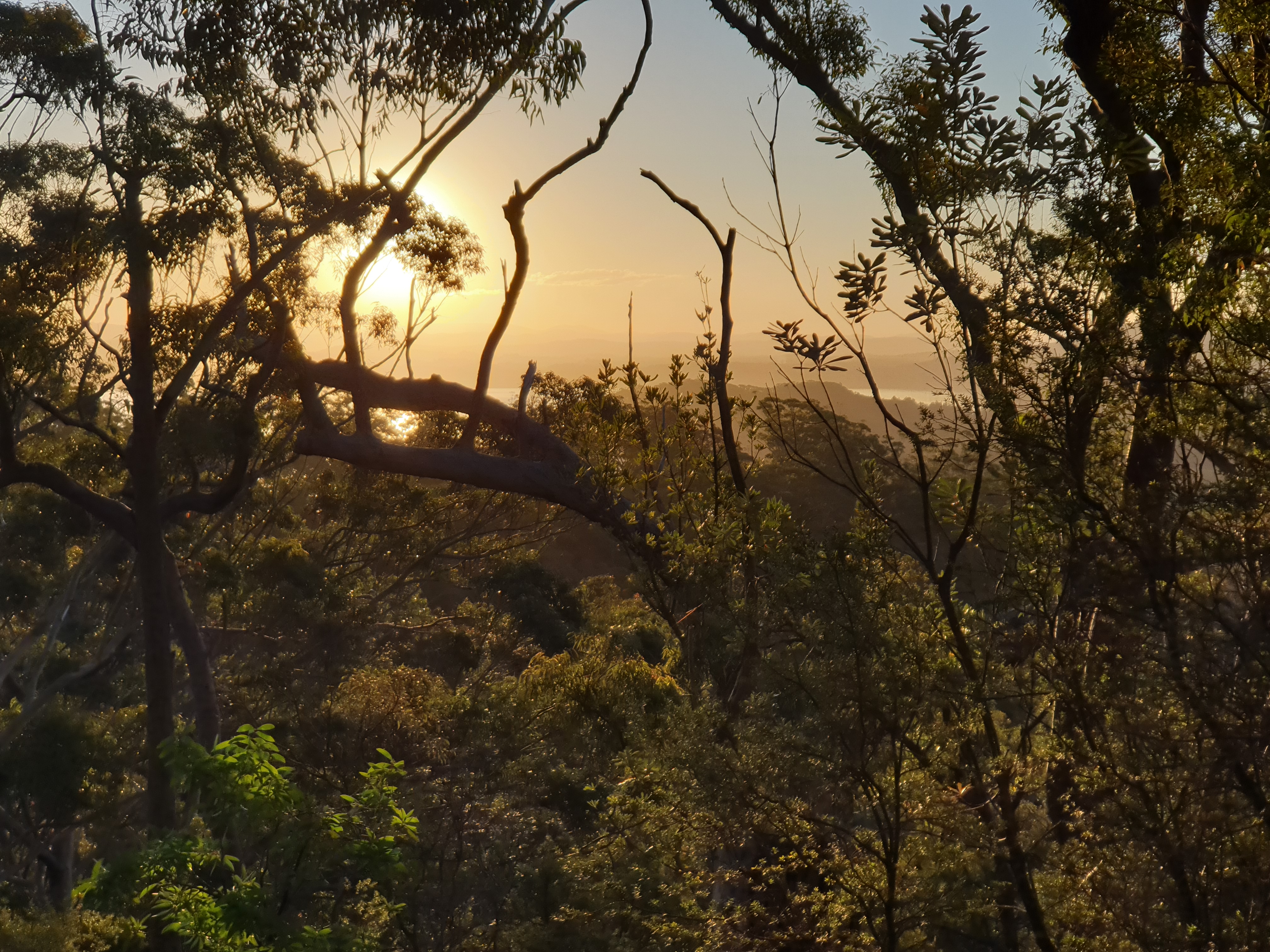 For an overnight trip on these dunes, you can enter from the northern side of the park, but you'll still have to carry water.
Nobody camps or bushwalks the high dunes from what I could see. Why? The views of the lake are fantastic at sunset. And, please, don't burn the place down, don't light a fire, take a fuel stove. This section of the park is very precious, a tall old growth forest on sand unhurt by fire, it needs your care and respect.
Day 4: Don't try and traverse the lakeside as it's wet and slow that way, stick to the dunes. Getting through to the high peninsulas further west across wetlands is also tricky and not for the inexperienced. I exited the high dunes on the One Horse fire road, returning to the old Mining Road and headed south-west. I used the same camp off the old Mining Road as I did on day 1. I spent time fossicking about trying to find a way across the wetlands to Kataway Hill, no luck this time, too wet.
Day 5: On the return to Boomeri campground, I dropped in on Shelly Beach Campground (an often busy, boaters' paradise). From there is good walking north to Long Point via Limestone Hill through lovely spotted gum forest with views from the peaks. A visit to Long Point is an out and back, with water picked up from swamps before Shelly Beach in wetter times or at the campground.
Alternatively, you can attempt a visit to Tickerabil Point another forested peninsula on the lake. The trick is to connect up the slightly elevated low dunes in the Moors sand mass that connect with promontories that jut into Myall Lake. The (now closed – hence walker suitable) Tickerabil Road is only a negotiable route that follows low dunes, so it's not impossible, except when you try in the wrong place, as I did. Swamp walking can be a bad experience, wet, with no reference points and thick scrub.
The Old Gibber Road that becomes the old Mining Road and links the southern (Hawkes Nest) end and the northern (Seal Rocks) end of the national park. This road is necessary as it services two camping areas primarily for boat situated on the lake – Shelly Beach and Johnsons Beach. These localities on Myall Lake are not really beaches, just landing/mooring grounds for boaters of all types. The road itself is well used by bike riders.
If you to go on a multiday walk through the Moors Wilderness this road offers a rapid exist if there is a need, like when an east coast low comes in, as happened to me. It is a long road bash but it has its uses. I've walked the road 3 times and its not so bad and there are options to visit the lake – Johnsons Beach Trail and Shelly Beach Trail.
Another option for your visit is Taits Mining trail (a service road). There are two places where the mineral sand miners got their mits the Moors before it was gazetted a national park, and this area is one on them. Only a small area was mined before it was shut down. Taits road gives access to Two Mile Lake and the western side of Myall Lake.